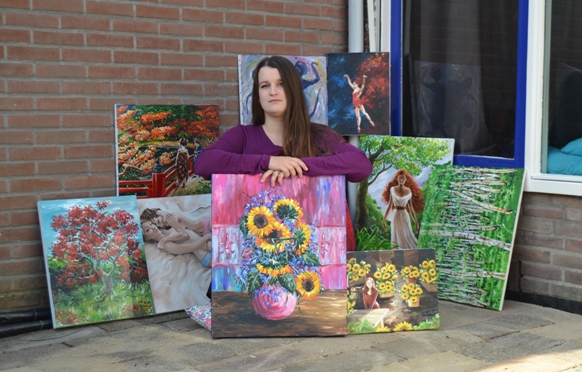 My name is Veya van Noort, and I was born in the Netherlands in 1980. Drawing and painting has always been one of my greatest passions, as are cats and reading.
I've been painting and drawing for as long as I can remember. It's what I do when I'm on the phone, when I'm bored, but most importantly, it's what I do when I feel inspired. Inspiration can be found in so many things.
Céline
21x30 - € 4 per print
19/11/2010

Autumn Forest
30x24 - sold
03/12/2010

I May Be Pink...
18x24 - € 80
22/12/2010
Preferring oil paint, coloured pencils and watercolours, I've often used the female shape as a subject for my work, and I've made portraits and more. The last few months of 2010 and the first few months of 2011, I've been painting nature, landscapes, kittens, skies and trees, and especially autumn scenes. This change of pace, both in subject as in actual production was very welcome.
My life has changed in the Spring of 2012 when I became the mother of the cutest and smartest girl in the world. On the one hand, she provides unlimited inspiration and on the other hand, time is severely limited. Like mother, like daughter though: she loves drawing (even now, when she is only 18 months old) and she has already won her first drawing competition. I couldn't be prouder.
I also love doing work on commission, painting and drawing what you'd like to see. I'm very interested to hear your ideas.
Please contact me.